Daily Worship
Now is where I am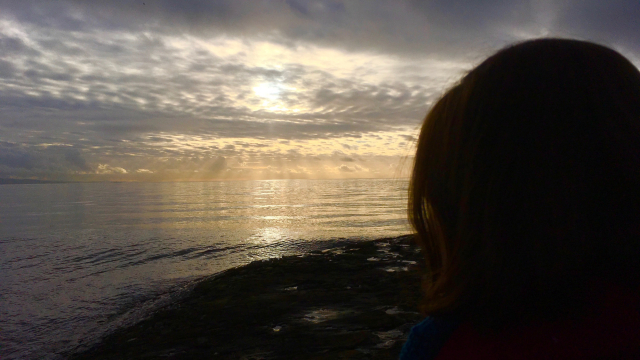 John 5: 19-24
19 Jesus said to them, 'Very truly, I tell you, the Son can do nothing on his own, but only what he sees the Father doing; for whatever the Father does, the Son does likewise. 20 The Father loves the Son and shows him all that he himself is doing; and he will show him greater works than these, so that you will be astonished. 21 Indeed, just as the Father raises the dead and gives them life, so also the Son gives life to whomsoever he wishes. 22 The Father judges no one but has given all judgement to the Son, 23 so that all may honour the Son just as they honour the Father. Anyone who does not honour the Son does not honour the Father who sent him. 24 Very truly, I tell you, anyone who hears my word and believes him who sent me has eternal life, and does not come under judgement, but has passed from death to life.
As a child I loved the film Fiddler on the Roof. This was partly because I was one of 5 sisters myself. But I also remember, even as a child, loving the way Tevye spoke to God - directly and clearly, with humour and thanksgiving and protest. He never forgot that God was God, but was unafraid to bring his whole self to the conversation.
But what about the other half of the dialogue? Sometimes it is hard to know when we are hearing God. What we do know is that God's call is to life. We also know that when we hear Jesus in the Bible, we are hearing the voice of God.
I wonder, Lord, will there be conversation in heaven?
I hope so, because there are a lot of things I'd like to talk over with you.
Maybe they won't seem so important then.
But they matter now.
I wonder, Lord, if you've got a moment to spare right now?
Now is where I am.
So will you talk to me?
Will you help me to hear you
now that I'm ready to listen?
I wonder, Lord, if 'hearing' is the right word.
Because sometimes I smell you on the breeze.
Sometimes I am reading or listening
and I see Jesus smile.
I taste his tears.
I think that's you.
Like father, like son,
they say
I say that too:
Like Father, like Son,
like Son,
like Father,
like Spirit,
like love
like healing
like life.
Amen
Lent Legacy 2021 Action
Day Twenty Five
Reconnect with someone you haven't seen for a while.
Alternative - Ask God to make you more willing to participate in the opportunities that come your way to serve