Daily Worship
Meet Daniel – vegetarian?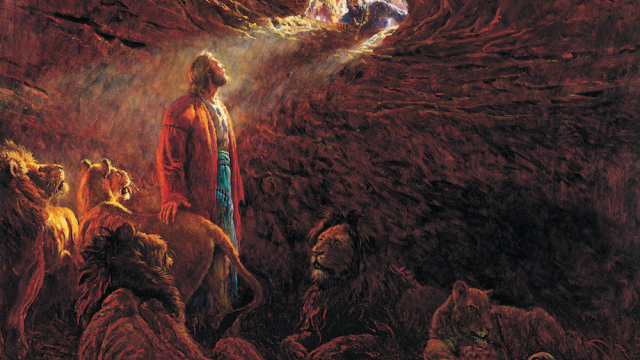 Daniel 1: 11- 17
Daniel then said to the guard whom the chief official had appointed over Daniel, Hananiah, Mishael and Azariah, 12 "Please test your servants for ten days: Give us nothing but vegetables to eat and water to drink. 13 Then compare our appearance with that of the young men who eat the royal food, and treat your servants in accordance with what you see." 14 So he agreed to this and tested them for ten days.

15 At the end of the ten days they looked healthier and better nourished than any of the young men who ate the royal food. 16 So the guard took away their choice food and the wine they were to drink and gave them vegetables instead.

17 To these four young men God gave knowledge and understanding of all kinds of literature and learning. And Daniel could understand visions and dreams of all kinds.
I'm most well known for the night I spent in the company of lions… but there's more to my story.
I'm a Jew in a foreign land,
One of 4 chosen by King Nebuchadnezzar to be instructed in the ways of Babylon so that I could serve in the court of the one who had besieged Jerusalem,
I excelled. I'm bright, the brightest of them all, the Lord made my mind quick and gave me great gifts; wisdom beyond my years and the ability to interpret dreams.
It's how I got on, made a name for myself, got myself liked and respected by the King.
But it wasn't so much me … as what God was doing through me!
Even in that foreign land, in the service of the foreign King – I still remembered where I came from and who's I was …
I refused to eat their best food and drink their choice wine, instead having a diet of water and vegetables.
Refused to bow down to their idols
.And I refused to pray to anyone but my God – the God of Israel.
And God showed up…
He closed the lions' mouths …
When the writing was on the wall … He gave me the words to interpret it …
And when I ate only veg and drank only water He made sure I was the best of the best …
Because I chose to honour my God.
The God who delivered my people from slavery;
The God who brought my people – His people – through the sea and the desert and into the land of Canaan;
The Lord who stayed by my side and gave me the strength and courage I needed throughout.
I am His.
I'm Daniel, sharer of the Lion's den, vegetarian, wordsmith, an interpreter of visions and a dreamer of dreams …
You could say I'm a complex character….
Prayer
You are my Lord and King
You have placed your call within me,
You have marked me out as yours,
And you've put me here …
In a foreign land, where I serve an earthly government,
But you have written your word upon my heart.
Inspire me with your breath …
So that I have strength enough to live in tune with the vision of that other kingdom – Your kingdom –
Fill me with courage …
So that I may march to the rhythm of your drum rather than bowing to the idols of this alien culture;
And give me faith …
To hold on,
And
To play my part in bringing the vision of your almighty and eternal Kingdom to fruition
Amen.