Daily Worship -
Light the way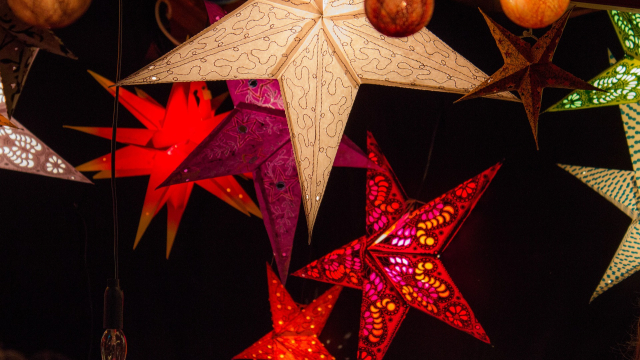 Matthew 3: 1-6
1 In those days John the Baptist came, preaching in the wilderness of Judea 2 and saying, 'Repent, for the kingdom of heaven has come near.' 3 This is he who was spoken of through the prophet Isaiah:

'A voice of one calling in the wilderness,
"Prepare the way for the Lord,
make straight paths for him."'

4 John's clothes were made of camel's hair, and he had a leather belt round his waist. His food was locusts and wild honey. 5 People went out to him from Jerusalem and all Judea and the whole region of the Jordan. 6 Confessing their sins, they were baptised by him in the River Jordan.
Sherwin from the Scargill Community writes:
For me, Christmas in the Philippines is defined by seeing "Parol" (lanterns) everywhere: hanging on street lights, on trees and, most of all, within houses. "Parol" are hung around from September onwards and come in different shapes, sizes and colours, bringing light and colour to the dark night. "Parol" can be different geometric shapes, but a star is the most common. Traditionally, they are made from Japanese paper (or colourful cellophane) and bamboo sticks. I remember as a primary school student that we would make a "Parol" as our creative Christmas project. Nowadays, the colourful lanterns are usually made of brightly coloured capiz shells.
When I was young, I always thought, "Why do we put Parol up at Christmas time?" I have heard many answers and explanations to this question but this is my favourite: When the Three kings were looking for the baby Jesus, a star guided them to find the house where he lived. The star seemed to say to them, "Here is Jesus." So, when my family put "Parol" lanterns in our house at Christmas time, we proclaim: "Jesus lives here in our home".
Jo's prayer:
John the Baptist - no glitzy prophet,
His street style was somewhat hirsute,
Yet city folk came out to the desert,
Something, Someone drawing them to
not just to gape and not just to gander,
His call to action was clear:
'Take note and be different,
say sorry, get dunked,
for God's Kingdom is near.'
The Bethlehem star – how many saw it?
How many noted its strange burning light?
The Magi, keen types, were focused to see,
Convinced of this important sign.
Believed in their quest, planned the journey ahead
to worship this King of the Jews.
And do we look too in unglamorous places
for signs of God's Kingdom down here?
Do we kneel to our Lord,
say 'yes' to the Word,
seen in a vulnerable Babe?