Daily Worship
The larger picture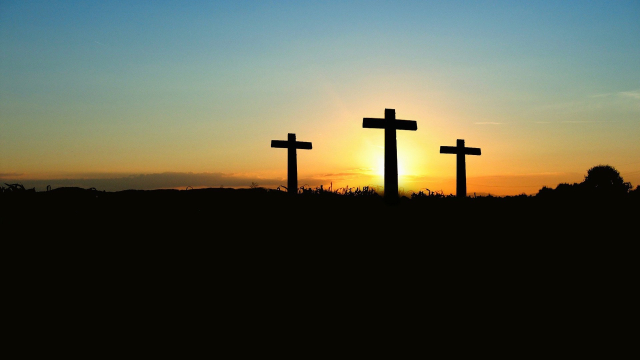 1 Thessalonians 4: 13-18
13 But we do not want you to be uninformed, brothers and sisters, about those who have died, so that you may not grieve as others do who have no hope. 14 For since we believe that Jesus died and rose again, even so, through Jesus, God will bring with him those who have died. 15 For this we declare to you by the word of the Lord, that we who are alive, who are left until the coming of the Lord, will by no means precede those who have died. 16 For the Lord himself, with a cry of command, with the archangel's call and with the sound of God's trumpet, will descend from heaven, and the dead in Christ will rise first. 17 Then we who are alive, who are left, will be caught up in the clouds together with them to meet the Lord in the air; and so we will be with the Lord for ever. 18 Therefore encourage one another with these words.
Of all the trials of life, surely death is one of the most vexing. Sometimes the pain is dulled when it is someone who has lived a long and happy life and we simply accept that their time to be called home has come. But often there is a prolonged pain for those left behind, who can see no bright future without their loved one. It is at times like these that it can be most difficult to reach out to someone who has been bereaved and tell them of the truth of the Gospel as Paul describes in this passage from 1 Thessalonians. Sometimes an embrace and the meeting of tear filled eyes is all we can do for that moment.
But if the Gospel means anything, then surely it means hope; hope that the promises of God are true and will be fulfilled, hope that we will indeed see our loved ones again free of pain and suffering, hope that we will spend eternity in His presence. And hope brings with it a peace that passes all earthly understanding.
We have not been given the ability to see the end from the beginning (I won't get into a debate about prophecy here!) and so we are called to live lives of faith and trust, that the Word of God is true and reliable, and that Word shows us the bigger picture if we open our spiritual eyes to see it. If the Resurrection means anything, then surely it means that the Word of God is true.
Holy Father, open the eyes of my heart that I may see again the truth of Your Word, and in seeing that truth may it bring peace and hope and assurance of Your unquenchable love for me. Amen.