Daily Worship
Kindling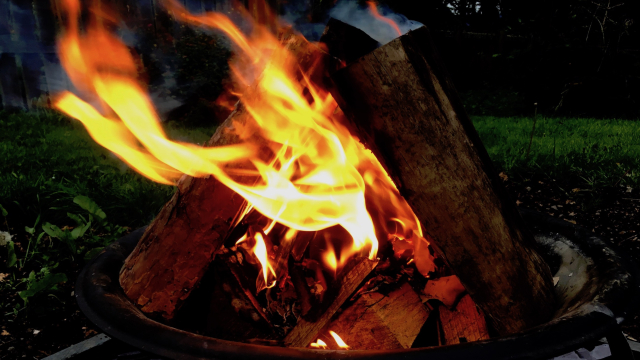 Luke 12: 49-56 (GNT)
49 "I came to set the earth on fire, and how I wish it were already kindled! 50 I have a baptism to receive, and how distressed I am until it is over! 51 Do you suppose that I came to bring peace to the world? No, not peace, but division. 52 From now on a family of five will be divided, three against two and two against three. 53 Fathers will be against their sons, and sons against their fathers; mothers will be against their daughters, and daughters against their mothers; mothers-in-law will be against their daughters-in-law, and daughters-in-law against their mothers-in-law."

54 Jesus said also to the people, "When you see a cloud coming up in the west, at once you say that it is going to rain—and it does. 55 And when you feel the south wind blowing, you say that it is going to get hot—and it does. 56 Hypocrites! You can look at the earth and the sky and predict the weather; why, then, don39;t you know the meaning of this present time?
Jesus said: 'I came to set the earth on fire, and how I wish it were already kindled!' (See verse 49).
The vision I have when I read this line is of a forest fire, blazing wildly out of control, consuming all that is in its path. A fire that won't go out no matter how much water is dropped on it. A fire that cleanses the land. A fire that eventually brings new life.
Jesus isn't talking about a physical fire sweeping over the earth but a fire that is ignited within our hearts. A fire sparked by the Holy Spirit. A fire that empowers us to follow Jesus' example and live according to his Gospel. A fire that cleanses us. A fire that refines and makes us God-centred instead of self-centred, ready and equipped to do his work in the world. A fire that won't go out…
While this fire from the Spirit transforms us, it can also cause divisions and we have to accept that and be prepared for it. For as the fire from the Spirit changes our lives, we leave behind that which no longer serves us as we live for Jesus. This change can be threatening to our family and friends, especially if they do not believe the Gospel, or hold onto the bad habits that we gave up. It can a threat to our neighbours and our communities as we call out hypocrisy and injustice. But we don't need to be afraid for God will support and protect us.
Holy Spirit
Come into my life and ignite in me a fire that lives to serve Jesus.
Cleanse me
And transform my life.
Give me courage when I face rejection from those that I love and
Give me the strength to be a witness that brings God glory.