Daily Worship
In colour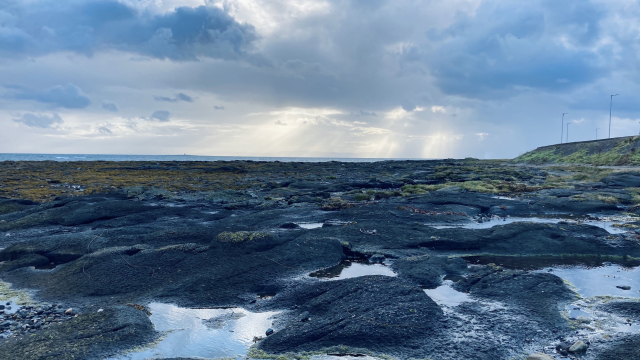 Song of Solomon 2: 8-13 (NRSVA)
8 The voice of my beloved!
Look, he comes,
leaping upon the mountains,
bounding over the hills.
9 My beloved is like a gazelle
or a young stag.
Look, there he stands
behind our wall,
gazing in at the windows,
looking through the lattice.
10 My beloved speaks and says to me:
'Arise, my love, my fair one,
and come away;
11 for now the winter is past,
the rain is over and gone.
12 The flowers appear on the earth;
the time of singing has come,
and the voice of the turtle-dove
is heard in our land.
13 The fig tree puts forth its figs,
and the vines are in blossom;
they give forth fragrance.
Arise, my love, my fair one,
and come away.
Where do you go when you need to clear your head?
I recently came across the concept of 'blue space'. It's like 'green space' but instead of just getting into nature it's specifically about being in the presence of water. A blue space could be a loch, the seaside, a burn, a reservoir, a pond, a canal, even a sizeable puddle… Being in green or blue spaces helps us process our thoughts and research shows that it can reduce stress and give our physical and mental wellbeing quantifiable, measurable boosts. Spending time in and amongst the blue and green is good for the heart, mind and soul.
Can you imagine living in an entirely beige world? Just endless, slight variations on beige.
A world just like this one with all its beauty and triumph and strangeness and wonder… but just… beige. Our ability to see light as it breaks into different colours is a remarkable, startling gift.
With our God-given senses alert to the change of seasons, like we see in today's reading, we get nudges to notice irrepressible life — always working away under our feet, always returning, in a myriad of vibrant colours.
Blue and green spaces are good for the heart and mind but there are all sorts of other colours beyond the forests of green and waterways of blue where we can find solace. Here are some suggestions and feel free to come up with some of your own.
Red space — walking through a carpet of crisp autumn leaves.
White space — up at a height where you can feel clouds brushing your cheeks.
Yellow space — through a rippling meadow, vibrating with bees.
Brown space — the newly turned soil, crumbling and humming with life.
Pink space — light playing on rooftops at sunrise.
Grey space — the mischievous puddle lying in wait, promising splashes.
Peach space — where a street corner is undone by a sunset.
Purple space — gazing upwards, held by the inky cosmos.
PRAYER:
God of all colour and all life,
we marvel at the richness of your love
that comes to meet us
vibrantly
and vividly
and oh so colourfully.
Amen.