Daily Worship
God alongside us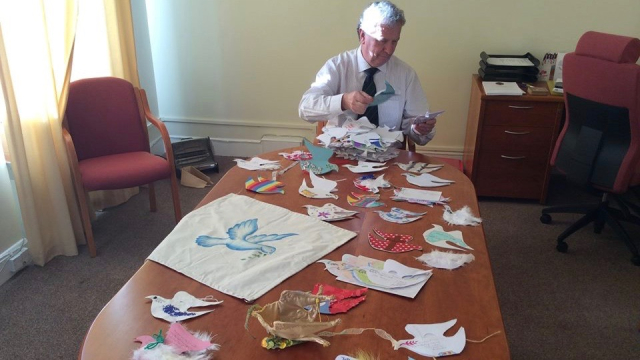 Psalm 107: 1-9
1 Give thanks to the Lord, for he is good;
his love endures for ever.

2 Let the redeemed of the Lord tell their story –
those he redeemed from the hand of the foe,
3 those he gathered from the lands,
from east and west, from north and south.

4 Some wandered in desert wastelands,
finding no way to a city where they could settle.
5 They were hungry and thirsty,
and their lives ebbed away.
6 Then they cried out to the Lord in their trouble,
and he delivered them from their distress.
7 He led them by a straight way
to a city where they could settle.
8 Let them give thanks to the Lord for his unfailing love
and his wonderful deeds for mankind,
9 for he satisfies the thirsty
and fills the hungry with good things.
The psalmist never tires of describing the ways in which God is faithful or the ways in which God comes to the rescue of God's people. This, of course, is balanced in so many other psalms with a voice of consternation when God appears to be silent and inactive in the face of aggression and injustice.
These passages force us to think very hard about the nature of God and too often people have settled for the image of a puppet-master who is sometimes active and other times passive and distant. This image has never worked for me. God is not somewhere behind the curtain or hovering over the stage; for me, God is alongside and that is why in the rhythm of life the psalmist discovers God in the moments of deepest distress and greatest peril.
So if you are looking for God, then God may be more likely to be present in the refugee camp than in the cathedral. Almost every army that has ever fought has claimed that God was on its side, but surely God is more likely to be found at the bedside or the graveside of the victims of battle than on the battlefield itself.
So, if we are serious about peace, ask where God is more likely to be – in the war-room or at the peace-table?
Almighty and everlasting God, forgive us for assuming that God is only ever on our side and open our eyes to experience God alongside the hurting, the victim, the wounded and the bereaved. And bring us to a day when we work as hard and invest as much in forging the tools of peace and plenty as we do in forging the tools of war and destruction.
Remind us every day of him who turned the other cheek, who taught us to love our enemies and who never said that the way of truth and justice and peace would be easy. Amen.