Daily Worship
Full flow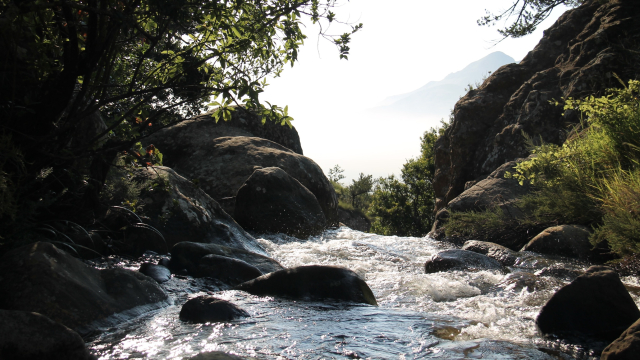 Isaiah 43: 14-21 (NRSVA)
14 Thus says the Lord,
your Redeemer, the Holy One of Israel:
For your sake I will send to Babylon
and break down all the bars,
and the shouting of the Chaldeans will be turned to lamentation.
15 I am the Lord, your Holy One,
the Creator of Israel, your King.
16 Thus says the Lord,
who makes a way in the sea,
a path in the mighty waters,
17 who brings out chariot and horse,
army and warrior;
they lie down, they cannot rise,
they are extinguished, quenched like a wick:
18 Do not remember the former things,
or consider the things of old.
19 I am about to do a new thing;
now it springs forth, do you not perceive it?
I will make a way in the wilderness
and rivers in the desert.
20 The wild animals will honour me,
the jackals and the ostriches;
for I give water in the wilderness,
rivers in the desert,
to give drink to my chosen people,
21 the people whom I formed for myself
so that they might declare my praise.
Here's Isaiah in full flow – the language is rich and symbolic. It's nuanced and full of concepts which are quite strange to us. But here's the thing – peel away the words about Babylon and chariots and we come to the core of Isaiah's message to us: God is at work; God is not distant; God has not deserted us.
On the contrary, God is doing a new thing. He's making a way in the wilderness and causing streams to flow in the wastelands.
It can be really tempting to see God's "new thing" as something historical. We can understand it being new to send Jesus. We can see the novelty of the resurrection. We can even comprehend the "newness" in the growth of the infant church. But what "new" is happening in 2022, in a world of war, pandemic and the decline of belief?
Hold on to this fact – God never gives up on us. God is doing new things in lives across the planet day by day. New people are coming to faith in Jesus; people are finding calls to ministry or Christ-centred volunteering. There's no limit to God's readiness to build in the wasteland.
Are we listening? Are we watching? Are we perceiving when God is at work?
PRAYER:
Almighty and everlasting God, whose ways are so far beyond our understanding but whose love for us is boundless, show us today what new thing you are doing in our lives. Equip us to embrace and live your plan. AMEN