Daily Worship
Feasting on friendship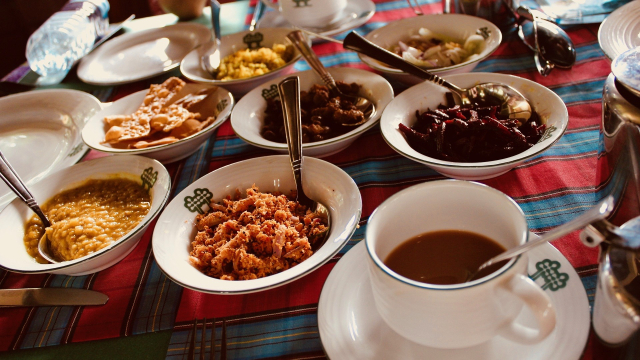 Isaiah 54: 1-10 (NRSVA)
1 Sing, O barren one who did not bear;
burst into song and shout,
you who have not been in labour!
For the children of the desolate woman will be more
than the children of her that is married, says the Lord.
2 Enlarge the site of your tent,
and let the curtains of your habitations be stretched out;
do not hold back; lengthen your cords
and strengthen your stakes.
3 For you will spread out to the right and to the left,
and your descendants will possess the nations
and will settle the desolate towns.

4 Do not fear, for you will not be ashamed;
do not be discouraged, for you will not suffer disgrace;
for you will forget the shame of your youth,
and the disgrace of your widowhood you will remember no more.
5 For your Maker is your husband,
the Lord of hosts is his name;
the Holy One of Israel is your Redeemer,
the God of the whole earth he is called.
6 For the Lord has called you
like a wife forsaken and grieved in spirit,
like the wife of a man's youth when she is cast off,
says your God.
7 For a brief moment I abandoned you,
but with great compassion I will gather you.
8 In overflowing wrath for a moment
I hid my face from you,
but with everlasting love I will have compassion on you,
says the Lord, your Redeemer.

9 This is like the days of Noah to me:
Just as I swore that the waters of Noah
would never again go over the earth,
so I have sworn that I will not be angry with you
and will not rebuke you.
10 For the mountains may depart
and the hills be removed,
but my steadfast love shall not depart from you,
and my covenant of peace shall not be removed,
says the Lord, who has compassion on you.
I am part of a women's Abrahamic group that meets once a month. Christian and Muslim women coming together in friendship to share the similarities of our faiths, not our differences.
Before our meetings we gather for lunch which is prepared by our Muslim sisters. What a feast they make! I remember arriving for the first time. Not knowing what to expect I was a bit nervous. I was faced with all these women, many dressed very differently from me in abayas and headscarves. One of the women, Sameena, noticed a new face and got up to greet me with a huge smile. Handing me a plate she guided me around all the delicious dishes, topping up my plate, insisting that I eat. Once my plate was piled high she sat me down with a group of ladies to join in with their chat and their laughter. It was a beautiful warm welcome and set the scene for a meeting that was open, inclusive, ready to build bonds of understanding and friendship between the faiths.
Extending the tent to include others, especially those who are in some way different from us, is so powerful but often we undervalue it. When we extend the tent, it is as if we are saying, "By accepting my food you are accepting me. By finding comfort in my dwelling space you are finding comfort in me." By extending the tent: new partnerships, new communities, and new friendships are created and grown.
PRAYER:
Father God,
Thank you for the opportunities to create new friendships and fellowships.
We thank you that though we are all very different people, living in differing circumstances — you created us all.
Forgive us Lord when we fail to see each other as your creation.
Help us to see that every face we encounter is the face of a brother or a sister,
And give us the courage to extend the hand of friendship to each other, offering hospitality that brings life and hope.
Amen.