Daily Worship
Don't forget to remember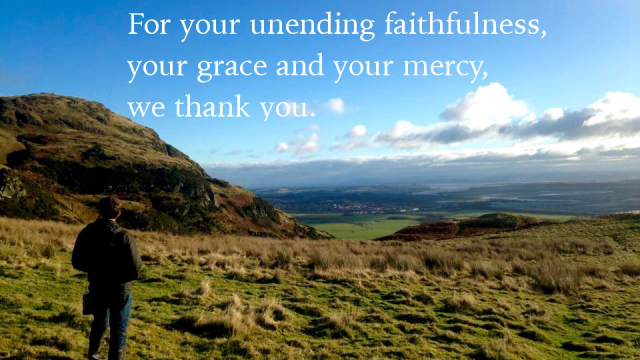 Psalm 106: 1-6
1 Praise the Lord!
O give thanks to the Lord, for he is good;
for his steadfast love endures for ever.
2 Who can utter the mighty doings of the Lord,
or declare all his praise?
3 Happy are those who observe justice,
who do righteousness at all times.

4 Remember me, O Lord, when you show favour to your people;
help me when you deliver them;
5 that I may see the prosperity of your chosen ones,
that I may rejoice in the gladness of your nation,
that I may glory in your heritage.

6 Both we and our ancestors have sinned;
we have committed iniquity, have done wickedly.
The opening verses of this psalm draw us to the place of praise and worship, a place of remembering the mighty acts of God. The psalmist longs to be included in the blessings of God. Verse 6 may seem a bit of an unwelcome inclusion in the passage for today, all that talk of celebrating and praying for prosperity and then this declaration of guilt, "we have sinned". The reading for today stops short of listing Israel's sin.
I am reminded of Isaiah as I read this psalm, and the response of the prophet when he beholds the holiness of God in the temple. In the face of God's holiness and goodness there flows from the lips of the prophet humble confession of his sin and the sin of the people.
Give thanks to the Lord for He is good; his mercy endures forever.
Merciful God,
How blessed to know your favour in our lives.
We, who are at times forgetful of your goodness, dismissive of your mighty acts,
We, who, in our arrogance make idols of our virtuous acts
and then we remember;
we remember those times when we have wandered along the wide path
times when we have been indifferent to your mighty acts,
we remember, and in the sorrow of our shame we cry out for mercy and forgiveness . . .
and you God are faithful and just to forgive us and cleanse us from all unrighteousness.
For your unending faithfulness, your grace and your mercy, we thank you. Amen.