Daily Worship
Donkeys beat warhorses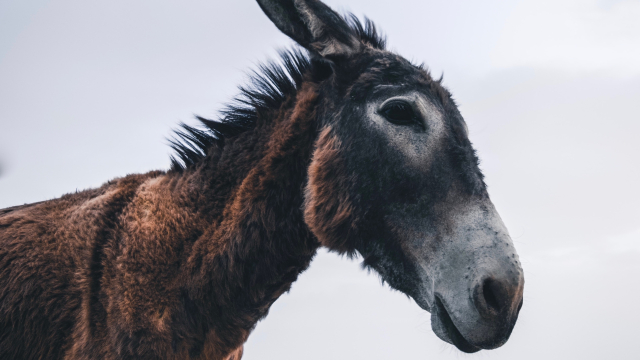 Zechariah 9: 9-12 (NRSVA)
9 Rejoice greatly, O daughter Zion!
Shout aloud, O daughter Jerusalem!
Lo, your king comes to you;
triumphant and victorious is he,
humble and riding on a donkey,
on a colt, the foal of a donkey.
10 He will cut off the chariot from Ephraim
and the warhorse from Jerusalem;
and the battle-bow shall be cut off,
and he shall command peace to the nations;
his dominion shall be from sea to sea,
and from the River to the ends of the earth.

11 As for you also, because of the blood of my covenant with you,
I will set your prisoners free from the waterless pit.
12 Return to your stronghold, O prisoners of hope;
today I declare that I will restore to you double.
In today's reading we see that a warhorse or a chariot is no match for this donkey! The divine preference for donkeys in all their humble stubbornness, lovableness, and ability to shoulder burdens gives us an insight into God's plans for the world and how true leadership should be understood. But, you know, all the same, in everyday life it's easy to get blinded by the gleaming warhorses and pass over the donkeys. We often have a preference for the shiny.
So often we vote for, go out with, marry, invest in, go into business together, idolise, follow, Like, and heart 'warhorses' and are surprised when they charge off on a crazy crusade throwing us from the saddle. New digital start-ups that attract a lot of fervour and funding are called tech unicorns — an even shinier steed that can't possibly exist and yet just might and so money is thrown at them even though they often can't live up to all the hype and expectation. We don't give a lot of attention to the tech-donkeys, the clever budget solutions that could lift the quality of life of the poorest.
But a warhorse, a chariot, a tech-unicorn, a magic self-driving car that can talk to your kettle don't point the way to God.
Our God is not a God of gruelling wars of attrition, sustained sieges, intimidation, last ditch charges and imperial expansion.
Our God is not a God of mystical, too-good-to-be-true, hidden magical solutions that ask us simply to swap our data for incremental customer service improvements.
Our God is a God of donkeys.
A God of picnics, of trips to the seaside, of farms, of saddlebag adventures, of sanctuaries, of childhood joy, of lifesaving supplies in the midst of a landslide — picking expertly across the debris to get to people in need.
Here our King comes now on a rusty old bicycle with a donkey laden with sandwiches. Rejoice!
PRAYER:
Remind us daily
of your tenacious love and mercy.
Amen.