Daily Worship
A deep well inside me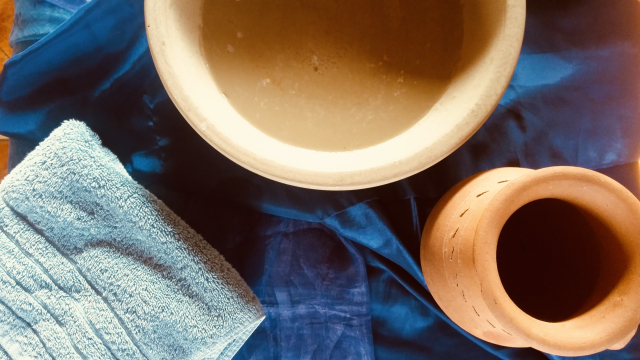 Psalm 22: 1-11 (NRSVA)
1 My God, my God, why have you forsaken me?
Why are you so far from helping me, from the words of my groaning?
2 O my God, I cry by day, but you do not answer;
and by night, but find no rest.

3 Yet you are holy,
enthroned on the praises of Israel.
4 In you our ancestors trusted;
they trusted, and you delivered them.
5 To you they cried, and were saved;
in you they trusted, and were not put to shame.

6 But I am a worm, and not human;
scorned by others, and despised by the people.
7 All who see me mock at me;
they make mouths at me, they shake their heads;
8 'Commit your cause to the Lord; let him deliver—
let him rescue the one in whom he delights!'

9 Yet it was you who took me from the womb;
you kept me safe on my mother's breast.
10 On you I was cast from my birth,
and since my mother bore me you have been my God.
11 Do not be far from me,
for trouble is near
and there is no one to help.
I first met Etty Hillesum on retreat a number of years ago. Alongside verses of Scripture we were asked to meditate on words from Etty's diary, written between 1941 and 1943 whilst living in Amsterdam. Etty had grown up with parents who were culturally Jewish rather than practising a living faith.
Etty's diary is written in very ordinary language as she makes sense of what is happening to her and her fellow Jews. She has a spiritual awakening to God and a very practical and down to earth faith emerges, enabling her to give strength and courage to those around her. She longs to be the beating heart for the people she cares for as she meets them face to face.
'There is a really deep well inside me. And in it dwells God. Sometimes I am there too. But more often stones and grit block the well, and God is buried beneath. He must be dug out again.'[Diary 26-08-41]
Etty is not at all working to find a way out for herself, or to deny the difficulties and horrors, but lives each day as gift, seeking beauty in the world despite the escalating restrictions.
'Such words as 'god' and 'death' and 'suffering' and 'eternity' are best forgotten. We have to become as simple and as wordless as the growing corn or falling rain. We must just be.' [Diary 09-07-42]
Etty Hillesum died in Auschwitz on November 30th 1943.
PRAYER:
God, you spoke hope to Etty through the language of your creation,
Christian writings and the example of friends.
You trusted her passionate heart to work to value
every human soul that she met.
We see You and Etty working together, against the darkness in the world.
Thank you that Your friendship with us
gives us purpose in the world.
Ultimately, Jesus the Light has won, darkness is defeated.
Yet, there are daily skirmishes still.
Give us courage that you are active and working
To bring signs of life and light, hope and love
Even in the darkest shadows.
Keep us close to You,
Help us to pray.