Daily Worship
Caught in the netting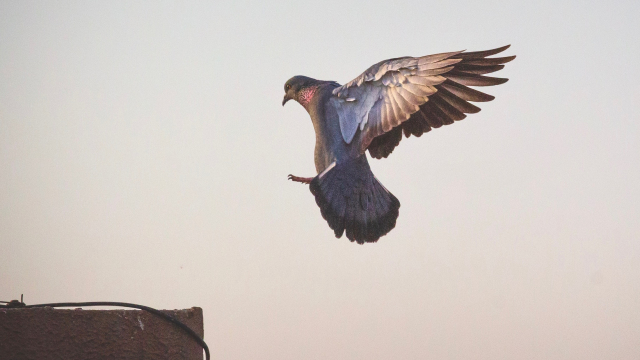 Psalm 86: 1-8 (NRSVA)
1 Incline your ear, O Lord, and answer me,
for I am poor and needy.
2 Preserve my life, for I am devoted to you;
save your servant who trusts in you.
You are my God; 3 be gracious to me, O Lord,
for to you do I cry all day long.
4 Gladden the soul of your servant,
for to you, O Lord, I lift up my soul.
5 For you, O Lord, are good and forgiving,
abounding in steadfast love to all who call on you.
6 Give ear, O Lord, to my prayer;
listen to my cry of supplication.
7 In the day of my trouble I call on you,
for you will answer me.

8 There is none like you among the gods, O Lord,
nor are there any works like yours.
During these unprecedented circumstances we have all acquired new hobbies and refined existing skills. For some, it meant picking up the brush, dusting off the piano, knitting, or learning how to edit a video-sermon (says every minister).


For me, it was gardening.


One morning, as I was watering our herbs I spotted something out of place. A wood pigeon was caught up between a few thorny bushes. A sense of responsibility overcame me and superhero-mode kicked in.
Without a cape, but with a pair of Pittard's leather gloves, Mr. Dove was emancipated. It felt good. Really good.I then imagined an epic movie scene — where the captive bird is set free by an open arm launch into the sky.
Except; it wasn't epic. Mr Dove nosedived into the lawn.
Sadly, he was severely disabled. A broken wing probably caused by a car or an error of judgement. He'd never experience the joy of flight ever again.


In Psalm 86 David is in a similar space. His wings are clipped by his suffering and he can't fly.He says things like, "save your servant," "listen to my cry of mercy" and "bring joy to your servant." Within his hurt and pain and discomfort David keeps his eyes fixed on the Lord. For He is far greater than any issue we will ever face. No broken wing can ever compare with his everlasting love for us.


And don't we all feel a bit caught up; stuck with a broken wing between the thorny bushes of life during these trying times?


Remember this: God is our Healer and nothing is impossible for Him. No matter how dire your situation. He is eager to nurture you to full strength.

'For He is Lord and no deeds can compare with His.'


PRAYER:
Lord, as we are brought to a standstill by our circumstances; help us to be honest about our feelings.
Feelings of being caught up.
Feelings of distress and discomfort.
Remind us of your eternal love for us and that we will prevail and overcome because of YOU.