Daily Worship
Burning enthusiasm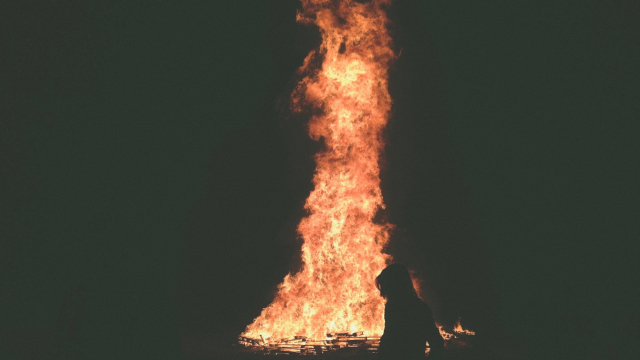 Psalm 105: 1-6 (NRSV)
1 O give thanks to the Lord, call on his name,
make known his deeds among the peoples.
2 Sing to him, sing praises to him;
tell of all his wonderful works.
3 Glory in his holy name;
let the hearts of those who seek the Lord rejoice.
4 Seek the Lord and his strength;
seek his presence continually.
5 Remember the wonderful works he has done,
his miracles, and the judgments he has uttered,
6 O offspring of his servant Abraham,
children of Jacob, his chosen ones.
In The Iolaire, I wrote some lines on Psalm 105. They were translated into Gaelic by Maolios Caimbeul, and that is included because — as Iain Crichton Smith said at the opening of the Scottish Parliament — it is important 'to let our three-voiced country sing in a new world'.
Dig up all your history
with stainless steel and expertise:
Graft it onto patriarchs,
get a feel for exodus,
know your plagues are not the first ones,
nor the last to set you back;
you may have Pharaoh's DNA,
but Amram's children count for more
than meets the closing Western eye,
so tired of bad religion . . .
Ruamhair ur n-eachdraidh air
fad le stàilinn chruaidh is eòlas:
Nòdaich e ris na h-athraichean,
fairich na fuadaichean,
ur plàighean, chan iad a' chiad fheadainn,
no an t-àmhghar mu dheireadh;
DNA Phàraoh annaibh 's dòcha,
ach clann Amraim a' ciallachadh barrachd
na thuigeas sùil leth-dhùinte Mhuinntir an Iar,
cho sgìth de dhroch chreideamh . . .
Trust that things in hiding
will reveal themselves, so build on
all your past with quiet confidence,
like Moses in the wilderness
experience the cloud by day,
the fire by night: the spark-filled
darker mystery tugs at our hearts
and feet, a guardian angel
opens temple doors in earthy places . . .
Biodh earbsa agaibh gun taisbean
nithean falaichte iad fhèin, gun tog sibh
air na tha seachad le misneachd chiùin,
mar Mhaois san fhàsach,
cuir eòlas air an neul san latha,
air meall teine san oidhche; dìomhaireachd
shradagach nas duirche a' criomadh
cridhe is cas, aingeal gar dìon
a' fosgladh dorsan teampaill air talamh . . .
Our enthusiasm also is three-voiced: for the Father, for his love lit a fire in the heart of David in whose honour the Psalms were composed and published; for the Son, who makes the burning love of the Father known to all his friends; for the Spirit, for she kindles that fire within the praise of God's people.
PRAY:
As we pray today, let us include the prayer of St Augustine: 'To my God a heart of flame, to my fellows a heart of love, to myself a heart of steel'. Amen.