Daily Worship
The Awakening to the end of death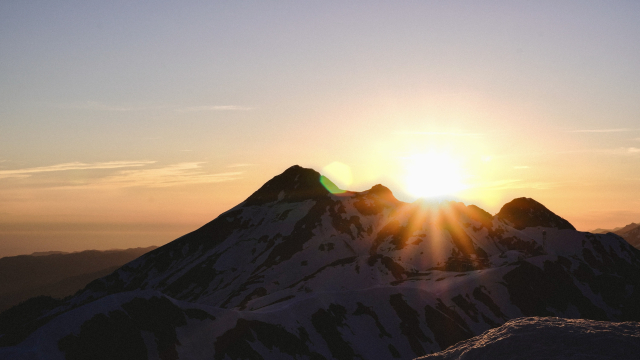 Isaiah 25: 6-9 (NIVUK)
6 On this mountain the Lord Almighty will prepare
a feast of rich food for all peoples,
a banquet of aged wine –
the best of meats and the finest of wines.
7 On this mountain he will destroy
the shroud that enfolds all peoples,
the sheet that covers all nations;
8 he will swallow up death for ever.
The Sovereign Lord will wipe away the tears
from all faces;
he will remove his people's disgrace
from all the earth.
The Lord has spoken.

9 In that day they will say,

'Surely this is our God;
we trusted in him, and he saved us.
This is the Lord, we trusted in him;
let us rejoice and be glad in his salvation.'
Here the prophet gives us a glimpse of God's eternal purposes for all mankind. Using poetry shrouded in mystery he tries to express that which is beyond our ken. He speaks of a day when all the peoples of the world will recognise the glory and the majesty of God. The apostle Paul in Philippians 2: 8-11 engages with Isaiah's prophecy and places Jesus at the centre of this great celebration. This will be the time when the veil will be lifted from all eyes and God will be glorified through the death and resurrection of Jesus.
These are wonderful verses that seek to lift our eyes and hearts to reach out to understand that death and dying, tears and sorrow will all come to an end. The resurrection of Jesus is the guarantee that God will fulfil his covenant of grace. We now are called to chase the darkness of these times in which we are living away. Living not as people imprisoned by death, but as sons and daughters of God set free by his glorious gift of atoning love.
The Awakening is coming
Lord,
Your resurrection
Is the foretaste of the Awakening
Breaking in on time
The picture of the feast
The mountain
The sun shining
The air as clean as can be
The wine
The food
The noise
The laughter
The crowd
It's an awakening
Fresher than life itself
The sense of expectation
The feeling of being somewhere
Because you're wanted
You're loved
You're expected
It's an awakening
To be more at home than home itself
The feeling of being somewhere
Because you want to be nowhere else
Because all you ever wanted will be here
It's beyond understanding
It's like an awakening
To be content beyond contentment
But it has been placed in our thinking
By you — Lord
Thinking that says
Trust me it will all work out
You see there is no end
Only an awakening
And as I listen
I hear the voice of an apostle saying
It hasn't even entered into the imagination of humans
What God has prepared for those who love him
So Lord,
I say
I can't really begin to explore
What is in store for me — for us
I'm simply trying to say
Take my breath away — If this is the end of dying
I guess, could I have already started to awaken?