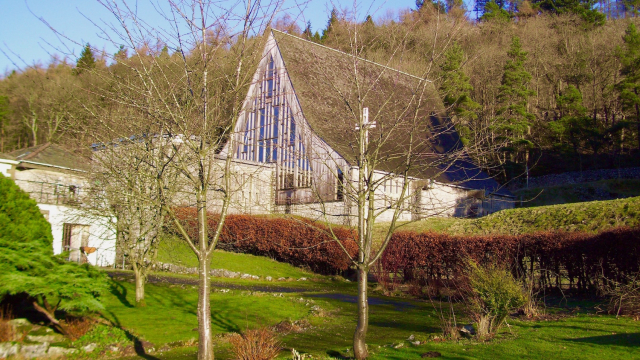 Refuge
"Are you willing to be a voice for the voiceless and work towards lessening poverty and injustice?" From the Scargill Community promises. Image - Scargill Chapel.
Scargill is a meeting place for all sorts of people, not just churches and individuals, but many different types of groups including charities working with refugees.
We make many preparations to anticipate the needs of a group coming into our home: from the menu; to the rooming list, the special diets; timetable; workshops and entertainment; and who would be the best host team. There are also things that we respond to when guests are here – waterproofs and boots provided for walks, extra fruit added to the fruit bowl, a load of washing put through for a family.
How lovely to recently welcome to Scargill a group of refugee families, from nearby Bradford, for time out in the beautiful Dales. We receive so much in welcoming them into our home, sharing time with them and seeing them enjoy this space. It reminds us to live in the present, and enjoy the process of sharing our meal, offering them the invitation to eat and live, rest and relax. Jesus himself was a refugee, and spent much of his teaching years on the road accepting hospitality from others.
These opportunities to offer small acts of kindness to families who have travelled from across the world remind us of the hospitality shown to Jesus who came as a wandering refugee to give his life for us.
Jesus, you walked many a road,
to Egypt, Jerusalem, Bethany and Emmaus,
sharing food and listening,
immersed in the journey.
Forgive us when we forget
that we too are pilgrims travelling through
and get impatient for the destination.
May we listen and learn,
enjoy shared journey time,
being shaped to see
what You value in life.
And at the end may we tell
stories of goodness and love,
generosity lived.
Leviticus 19: 33-34
33 '"When a foreigner resides among you in your land, do not ill-treat them. 34 The foreigner residing among you must be treated as your native-born. Love them as yourself, for you were foreigners in Egypt. I am the Lord your God.