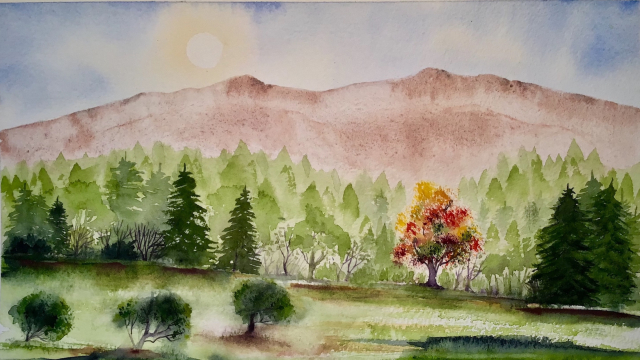 Everyone belongs here
Isn't it strange that while we want to be recognised for our achievements, when we do stand out in a crowd we find it difficult and painful? Most people want to fit in; to belong and find a place in the community in which they choose to live. The writers of Leviticus refer to "a stranger" or in some translations 'an alien' who settles among us - terms which should challenge our ideas of befriending our community. Loving, as Christ loves all people, calls us to accept people who are different to us - and that doesn't just mean a different nationality.
A deciduous tree deep in the conifer forest merges with the other trees till suddenly it stands out as it turns yellow and orange and red in the crisp autumn air. Now it's 'an alien' amongst fifty shades of green, yet it draws its nourishment from the same earth as the other trees, roots entwined and branches brushing together. All grow and fulfil their potential in the light of God.
Father God, who nourishes my life with your love,
walk with me in this day, when I'll meet all kinds of people.
Some I cannot fail to notice and others I must strive to notice. Some I will find easier to love than others. May the love of Jesus grow in me, so that I share a word of kindness, a smile of welcome, or a caring action, to help another to feel included and affirmed.
If someone rejects me, puts me down or leaves me out, catch my thinking before I take offence.
Remind me of Jesus' experiences as he walked among people, respected and insulted in equal measure. If we rejoice in his saving love, we square our shoulders to share his costly service to you.
When I feel myself an outsider in the community, faced with overwhelming challenges, draw me into your presence, to experience your love afresh. Encourage me to find a place in your Christian family where all are welcomed and belong.
Leviticus 19: 34
34 The alien who resides with you shall be to you as the citizen among you; you shall love the alien as yourself, for you were aliens in the land of Egypt: I am the Lord your God.
Lent Discipline
WEEK 2: Every day this week spend 5 minutes in silence. Take a moment to still yourself before God and rest. Don't feel any pressure to think about anything in particular and don't worry if you get distracted. Simply breathe in and out and let the thoughts come and go. It may be that after spending five minutes in silence you feel like saying a prayer but it's up to you. Take the time to listen in the silence before carrying on with the rest of your day.