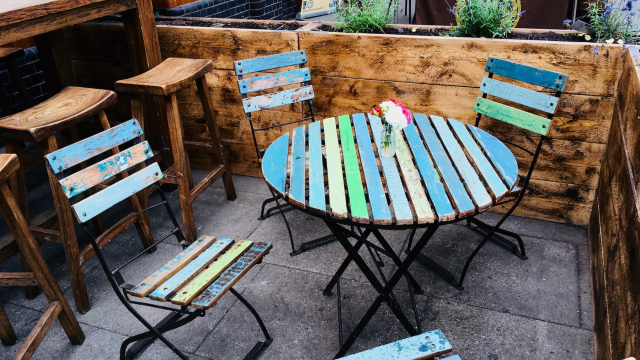 Economics + space
Our theme this month 'In The Neighbourhood' invites us to take a look around our local communities and reading Isaiah 55 I was struck by the generous language of hospitality - the offer of free food and drink to the hungry and thirsty - and how it makes a big contrast to the supposedly 'public' spaces in our towns and cities. Our urban centres have become incredibly commercialised places where everything comes with a cost and there's nowhere you can even sit down 'without money and without price'. Stopping to catch your breath has been turned into a transaction. If you want to rest your weary pins you'll need to pony up for a chai latte.
Imagine a prophet trying to deliver this message of God's abundant generosity in the context of our rigidly controlled city centres today…
The prophet is excited, he has An Invitation to Abundant Life to give. He can see the crowds forming. He opens his mouth to speak but is immediately interrupted by the most worthy and dignified stewards who keep barking things to the crowd:
"Excuse me sir, you can't sit there."
"I'm afraid it's customers only."
"This space is reserved."
"Have you got a ticket?"
"You'll need a permit."
"Are you going to order anything?"
"These toilets are only for paying customers."
"I'm going to have to ask you to leave."
"I've called security."
"This area is for patrons only. What's a patron you ask? Well like a customer but you know… posher."
Then the prophet bellows "Ho!" and everyone falls silent, even the most worthy and dignified stewards. He coughs and says:
"Everyone who thirsts,
come to the waters;
and you that have no money,
come, buy and eat!
Come, buy wine and milk
without money and without price…"
How does economics shape how people behave in your local neighbourhood? How hard is it to eat, rest and socialise on a budget where you are?
Abundant God,
We rejoice that your gifts are priceless and limitless,
in a commercialised world often suspicious of generosity and 'free promotions'
help us to articulate your beautiful kindness.
Give us a sensitivity to how economics shape our public places.
Lead us to bless our neighbourhoods
to transform them with your hospitality and your peace.
Amen.
Isaiah 55: 1-9
1 Ho, everyone who thirsts,
come to the waters;
and you that have no money,
come, buy and eat!
Come, buy wine and milk
without money and without price.
2 Why do you spend your money for that which is not bread,
and your labour for that which does not satisfy?
Listen carefully to me, and eat what is good,
and delight yourselves in rich food.
3 Incline your ear, and come to me;
listen, so that you may live.
I will make with you an everlasting covenant,
my steadfast, sure love for David.
4 See, I made him a witness to the peoples,
a leader and commander for the peoples.
5 See, you shall call nations that you do not know,
and nations that do not know you shall run to you,
because of the Lord your God, the Holy One of Israel,
for he has glorified you.
6 Seek the Lord while he may be found,
call upon him while he is near;
7 let the wicked forsake their way,
and the unrighteous their thoughts;
let them return to the Lord, that he may have mercy on them,
and to our God, for he will abundantly pardon.
8 For my thoughts are not your thoughts,
nor are your ways my ways, says the Lord.
9 For as the heavens are higher than the earth,
so are my ways higher than your ways
and my thoughts than your thoughts.