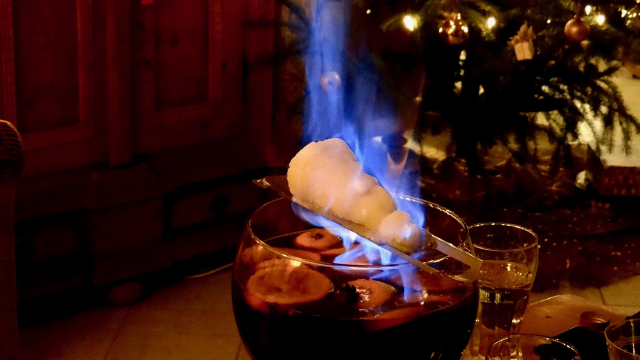 A fiery punch
Carolin from the Scargill Community writes:
''Bring the light back' describes Christmas in Germany for me. Our main Christmas celebrations are on Christmas' Eve which starts with a service full of lights and a walk back from church with a candle. After a lovely traditional meal of a goose filled with apples, served with potatoes, my family used to sit together around the Christmas tree, which was decorated with real candles that shone on the presents underneath.
What followed was unique: The 'Feuerzangenbowle' (literally translates as fire-tongs punch) is traditionally made by the eldest of the family. We enjoyed this special Christmas drink together and told old stories. The whole ritual involves a rum-soaked sugarloaf (a sugar cone around seven inches long) which is set on fire. As it melts and caramelizes it drips into a mixture of heated mulled wine spiced with cinnamon sticks, cloves, star anise and orange peel. It is prepared in a bowl, similar to a fondue set, which usually is suspended over a small burner. More rum is poured with a ladle until all the sugar has melted and mixed with the wine. It is accompanied by typical German Christmas sweets 'Lebkuchen' or 'Spekulatius'.
For some, the ceremony is more important than the drink itself, celebrating the gathering of friends and family. This tradition celebrates the precious old days and asks to bring light in the darkness. It links the generations and respects what they contribute to the family.
Jo's prayer:
God of light, love and wonder,
God of justice and grace,
This Messenger promised was not cuddly or cosy,
but challenging and strange to our comfortable ways.
Hot flames need fuel to burn,
refining aims to purify for good.
Traditions and rules are not the way to God,
as they bind us and blind us in shame and in guilt.
This Messenger speaks out
Your plea to turn round and say sorry,
be baptised and renewed.
Our hearts are our offering, make us faithful and true.
Let us worship once more our thrice Holy God,
With thanks for the one who points to the Son.
Malachi 3: 1-4
1 'I will send my messenger, who will prepare the way before me. Then suddenly the Lord you are seeking will come to his temple; the messenger of the covenant, whom you desire, will come,' says the Lord Almighty.
2 But who can endure the day of his coming? Who can stand when he appears? For he will be like a refiner's fire or a launderer's soap. 3 He will sit as a refiner and purifier of silver; he will purify the Levites and refine them like gold and silver. Then the Lord will have men who will bring offerings in righteousness, 4 and the offerings of Judah and Jerusalem will be acceptable to the Lord, as in days gone by, as in former years.