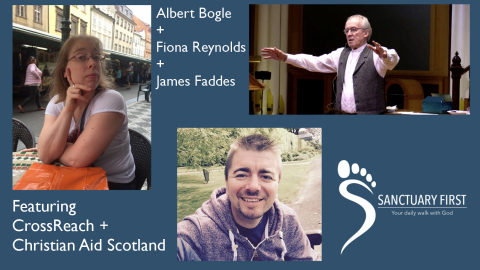 #LiveTheJoy
This Christmas at Sanctuary First we are inviting you to 'Take a moment' to experience joy, glory, peace, and love.
This time of year can be stressful and overwhelming - far from peaceful. So with that in mind we are encouraging you to find little spontaneous moments in amongst the busyness to stop and draw breath.
Moments to connect with the wonderful Christmas story of Jesus coming into the midst of humanity to live among us.
May the generosity and love of God encourage us to engage in random acts of kindness, to appreciate the glory of creation around us, to work for social justice, and to be more hospitable in our homes, neighbourhoods and societies.
In our first week of Daily Worship we are taking a moment to #LiveTheJoy. Read our resource pack to find out more about the theme. If you are interested in leading a small discussion group, prayer time, or Bible study exploring these ideas check out our group discussion questions. You can also watch our SF Live: Take A Moment service on replay.
We are proud to be partnering with CrossReach and Christian Aid Scotland who are each leading Daily Worship once a week over the 4 weeks of our Christmas theme.
We encourage you to take a moment with both organisations this Advent, perhaps thinking how you could volunteer your time, skills, or resources to contribute to their invaluable work. Instead of being overwhelmed by social, global and political issues we can take a moment to do something positive about it.

Our very own Very Rev Albert Bogle has also been contributing to our Daily Worship this week. Albert is preparing for Social Bite's Sleep in the Park this Saturday, an initiative to help raise money and motivate action to tackle homelessness in Scotland. Let's take a moment this Advent to think what we can do about homelessness in our communities.
We are also blessed to have James Faddes and Fiona Reynolds joining us. James leads Bishopbriggs Community Church. He says that he finds joy in the season of advent with his wife Yvonne, and their four children, through anticipating, expecting, and heralding the coming of God in Christ.
Fiona is a Naval veteran, and a probationary minister in the final month of her training at Pollokshaws Parish Church. She looks forward to finding joy each Christmas in the Watchnight service.
Comment below or on Facebook/Twitter and lets us know how you are going to #LiveTheJoy this Christmas.
James Cathcart
---