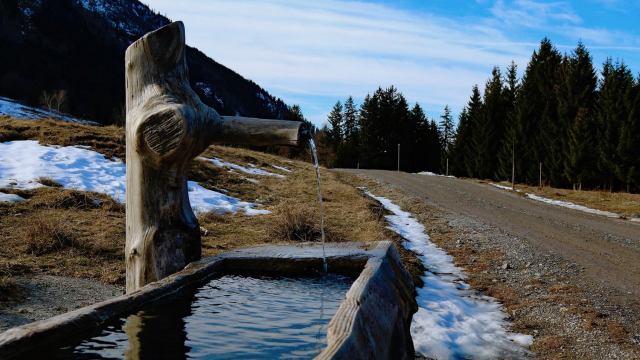 An inheritance of joy
'The Lord is my strength and my song;
He has become my salvation.
With joy you will draw water
from the wells of salvation.' (from 12:2)
"God is the most Joyous Being in the universe." (Dallas Willard) It is God's desire that we share in that joy. God creates the best in us and redeems the worst in us. "Wells of salvation" invite us to look beneath the surface of current events to drink from the deep places where God is deeper than the darkest depths — an artesian well drawing on the hidden aquifers of grace with defiant gratitude.
When I am weak, You are my strength.
When I am downcast, You are my song.
Today, I praise You and give You thanks.
When all speak against me, You bless me.
When life conspires to crush me, You hold me.
Today, I praise You and give You thanks.
When others speak ill of You, I will speak for You.
When the masses ignore You, I will seek You.
Today, may I be a wellspring of life and joy for others.
When nations make plans, I will pray for Your purposes.
When politicians make speeches, I will listen for Your character.
Today, may I drink deep of the wells of salvation and hope. AMEN.
Isaiah 12:1-6 (NIV)
1 In that day you will say:
"I will praise you, Lord.
Although you were angry with me,
your anger has turned away
and you have comforted me.
2 Surely God is my salvation;
I will trust and not be afraid.
The Lord, the Lord himself, is my strength and my defense;
he has become my salvation."
3 With joy you will draw water
from the wells of salvation.
4 In that day you will say:
"Give praise to the Lord, proclaim his name;
make known among the nations what he has done,
and proclaim that his name is exalted.
5 Sing to the Lord, for he has done glorious things;
let this be known to all the world.
6 Shout aloud and sing for joy, people of Zion,
for great is the Holy One of Israel among you."