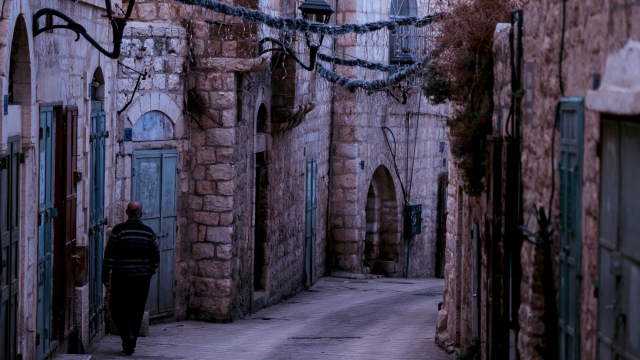 Bethlehem of Noblest Cities
Today Maureen Jack reflects on what it is like to be in Bethlehem on Christmas Day in the 21st Century:
"It's Bethlehem; Christmas Eve and the Scouts parade with their bands, through Star Street - so called as it is thought to be the route Mary and Joseph took.
There, below the Lutheran Church, where they worship, are Daoud Nassar, and his family, watching – they are from the Tent of Nations, just outside of Bethlehem; their land is being squeezed on either side by illegal settlements.
Now, into Manger Square with its huge Christmas tree, the Scouts go - they pass the Church of the Nativity and on down the hill into Manger Street. There, by the café which houses the Popemobile, is the Church of Scotland's Jerusalem Guesthouse manager, Lillian, she looks on - real people in the real place where Jesus was born.
Through the city the bands play - Angels from the Realms of Glory doing a neat segue into Jingle Bells. Brass bands, pipe bands covered in tartan and everyone wearing Santa hats, waving and applauding, Christians and Muslims too - it's a holiday in the West Bank.
The church bells mingle with the call to prayer. And then, in the afternoon, in front of the Church of the Nativity, scores of priests in clerical black await the arrival from Jerusalem of the Latin Patriarch. In the churches throughout the city, worshippers gather in quiet watchfulness. In the streets, the revels continue.
In Bethlehem at Christmas, there is a real sense of joy. And hope."
Maureen writes about real people who are being faithful in the place of Christ's birth. What she describes is a town which is a cauldron of all of life and place which is in need of peace as much as it is in need of hope. It is no accident that Christ comes to Bethlehem where his words are still as true today as when they were first spoken.
A Prayer:
Lord Jesus, Prince of Peace; come down again and bring peace to the place of your birth and to the world you came to save. Amen.
Micah 5: 2
2 'But you, Bethlehem Ephrathah,
though you are small among the clans of Judah,
out of you will come for me
one who will be ruler over Israel,
whose origins are from of old,
from ancient times.'