Sunshine, sweeties, smiles, sanctuary…
I had a great time manning our stall at Heart and Soul, the Church of Scotland's annual outdoor event to celebrate the life of the Church and the work of its partners. The sun was shining (even if sometimes behind a thick layer of cloud), there were sweets to share, smiling interested folk, and a peaceful little tent that offered a bit of shelter both from the weather and metaphorically.
Thanks to my volunteers Kay, John, Martha, Jane, and Lily for taking shifts to accompany me throughout the afternoon. Thanks also to Sanctus Media for their help setting up the stall and for the Church of Scotland for hosting us.
At the stall we ran a consultation on future themes, asking people to suggest ideas for issues or topics they would like us to explore. We are keen to produce resources that are fresh and relevant and so it was incredibly useful for us to get an idea of what folk are passionate about. We got over 40 written responses and chatted to several more folk and distributed many, many cards. Special shoutout to John - the card king who was firing out cards faster than I could restock him!
It was heartening to talk to people who already use Sanctuary First, to hear their feedback and encouragement, and it was exciting to share what we do with people who were unfamiliar with our work. Thanks to everyone who came by, took a card, shared a few words, cracked a joke, wrote a comment or had a sweetie (nothing like a bit of bribery eh?).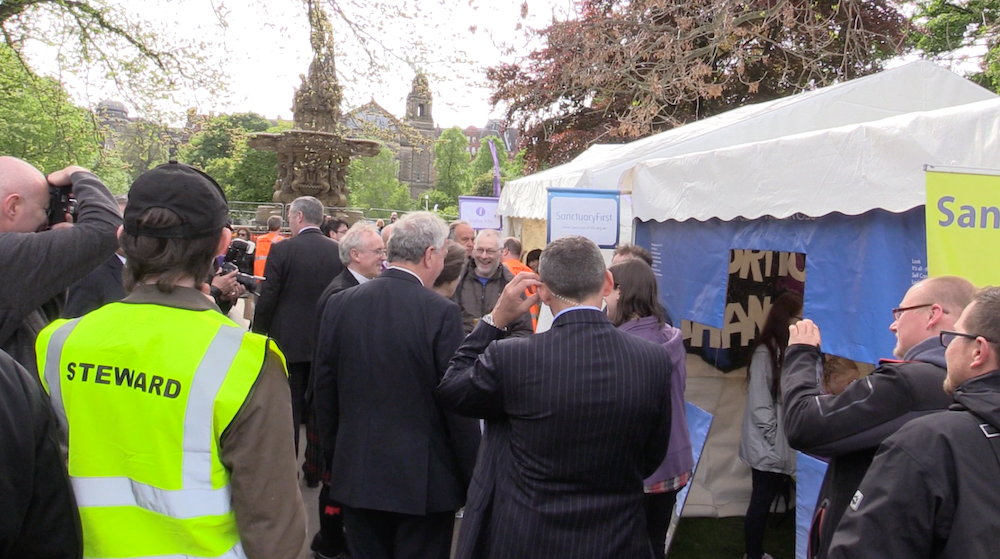 I enjoyed talking to representatives from other churches and charities, many of whom are interested in collaborating with us. As we move forward in Sanctuary First, this will become a key priority for us, to find partners we can work with to develop new work. We are keen to share our resources and to benefit from insight - specifically in specialised areas. Our hope is to work more closely with international charities and local organisations to connect people who worship with Sanctuary First to valuable causes they can plug into.
We will be working through the suggestions you gave us over the coming months and begin shaping new material around these ideas. After an initial look there are already recurring motifs that could provide a framework for future material. For example, the word 'peace' came up several times, in different contexts. It's a universal need, a universal cry, deeply longed for. How do we bring about peace? How do we work for it? How does culture and society fit in? What about social and climate justice?
Keep following.
Keep in touch.
James Cathcart